Start generating more opportunities from your CPA firm's digital marketing.
Simple email marketing solutions for accounting firms.
Fill out the form here to find out how user-friendly digital marketing tools can help your firm reach clients, prospects and referral sources.
We invite you to schedule a short demo with us so you can get a behind-the-scenes view of our platform. We'll walk you through all the ways you can use our cost-effective, intuitive technology to build your business, protect your clients and use data strategically to harness more meaningful opportunities. We'll listen to your firm's unique needs and review how we can help you grow.
Achieve your CPA firm growth goals with intuitive email marketing tools.
1. Generate alerts when clients and prospects click on key content.
Trigger Articles automatically alert you every time a client or prospect reads articles that have a direct tie-in to your services. These warm opportunities are delivered via email or text message to your team for follow-up.
2. Fresh content every two weeks.
No time to write? No problem. Our editorial team produces professionally written articles every two weeks and queues them up so they are ready to be included in your next newsletter launch. You have full control over what automated content you choose to include or omit.
3. Your stocked library of supplementary content.
Explore a Content Library stocked with additional articles and templates designed to generate leads, reach your niche markets and help you quickly produce announcements.
4. Built-in banner graphics and images.
Grab ready-to-go images and promotional banners from a library of thousands of built-in banner and image options.
5. Fully integrated social media scheduling and sharing tools.
Schedule content to be posted on your social networks, feature your accounting firm's social pages in your email communications and equip readers to easily share content, all from one platform.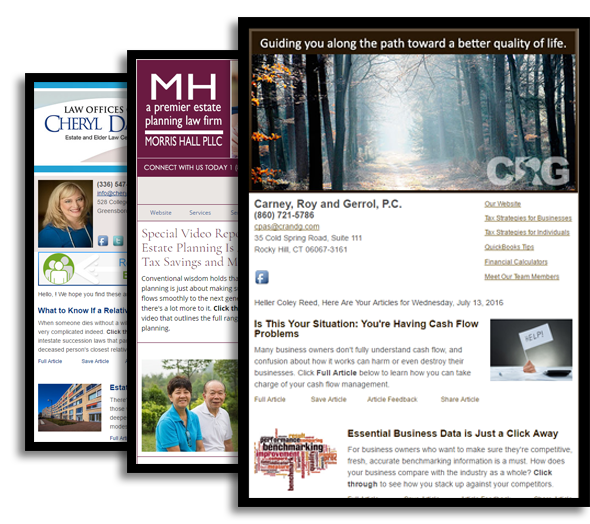 6. Get help with design and setup.
Our team will coordinate your email newsletter template design to your firm's branding and create graphics during setup.
7. Leverage built-in links.
Use built-in navigation links to drive traffic to your website and online resources.
7. Target your niche markets.
Targeted content helps boost engagement with your niche practice areas by delivering highly relevant, meaningful information.
9. Share a local events calendar.
It's important to deliver engaging, interactive content to your readers. An integrated local entertainment and events calendar helps you easily accomplish that goal.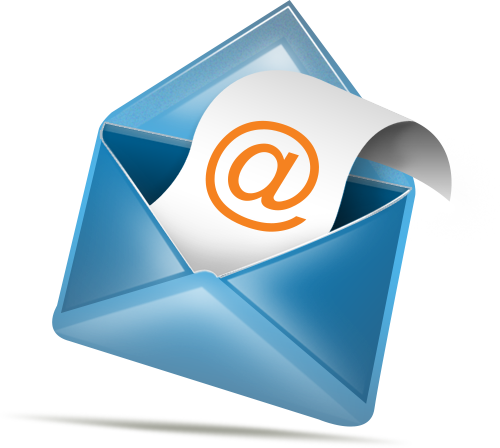 Expect more than just another email marketing platform.
Our modern user interface also includes single launch capabilities, CRM tools, survey tools, multi-user accounts, robust metrics and reporting and more. Contact us for a demo to get a tour of our platform.