Monitor Reader Engagement With Our Customizable Article Survey Tools
IndustryNewsletters' Article Survey Tools show you which of your readers are engaging with your email newsletter and deliver lead alerts.
Article Surveys Show You Who Is Interacting With Your Email Newsletter
We automatically add basic survey questions to the closing of each of your articles, even your custom content.
We ask each of your readers:
Is this article valuable to you?
Is this item worth sharing with others?
Would you like somebody to contact you from the company?
Additional comments…
This gives you the ability to find out which of your readers are truly engaging with your content.
Fully Customizable Survey Questions For Your Email Newsletter
If you don't like the default options, or if you prefer to include highly customized questions of your own, we give you the ability to create your own survey questions anytime you want.   We give you the option to create survey questions in many formats, such as:
Rating scales
Yes/no options
Multiple choice options
Plain text submissions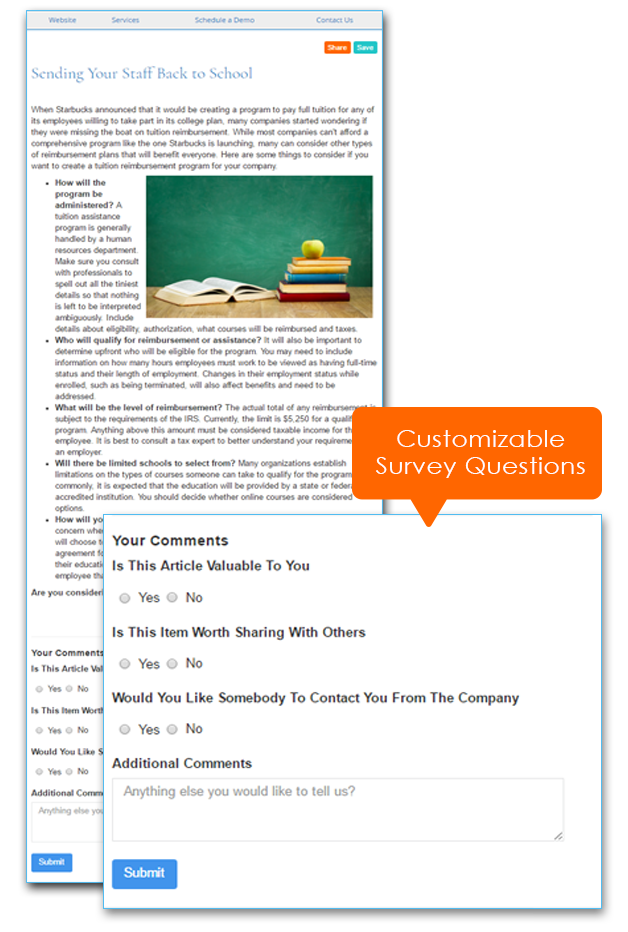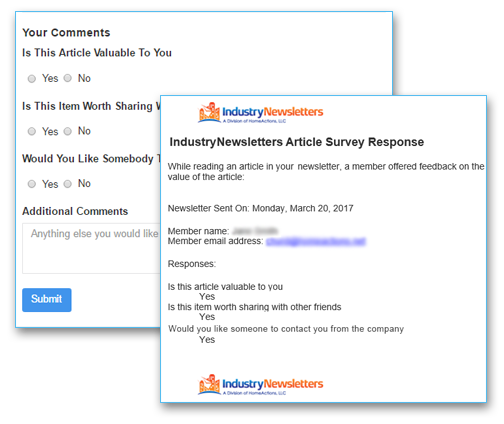 Receive Survey Alerts Whenever A Reader Responds To Your Article Survey
Whether your surveys are the default option or customized, we will email you a notification with the details of your readers' survey responses as a reminder for you to follow up on your warm lead. We give you the survey response details along with your reader's contact information. You have the option to receive this information automatically or in a daily digest. We also track your survey response history within your reporting and metrics tools.