Make Your Employees Your Biggest Advocates
As your business grows and expands, effective communication with employees in multiple departments becomes more and more challenging. We have developed EmployeeNewsletters as a simple email solution for your company's internal communication needs. Contact Us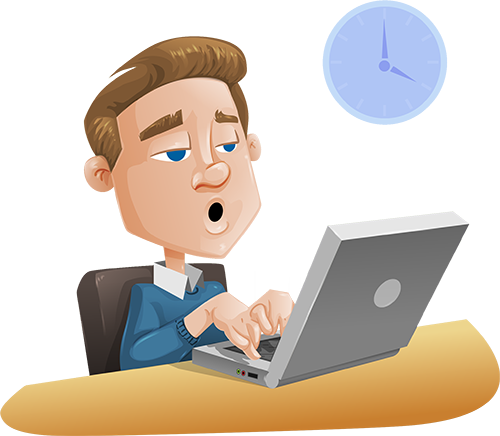 Want More Highly Engaged Employees?
You know that a disengaged workforce can negatively impact your business. According to
Gallup, only 13% of employees worldwide are engaged at work
. That's a staggering number. However, most employees really do enjoy the satisfaction that comes from a job well done. Employees who are disconnected are often seeking ways to plug back into their job and become more productive. Better communication can be a pivotal tool in the struggle against waning productivity.
Let Us Help You Connect
Happy employees do more.
Engaged employees are 21% more productive than disengaged staff.
More productive employees make you 22% more profitable.
Satisfied employees go that extra mile for your clients, and happy clients are far more likely to remain loyal to your business, purchase more add-on services, and refer you to others.
Better, more frequent communication is the key.
Good internal communication helps lower staff turnover rates and absenteeism rates.
When your staff is successful, your company is successful.
Turn your staff into a team of advocates through engaging email newsletter communications that help them achieve success.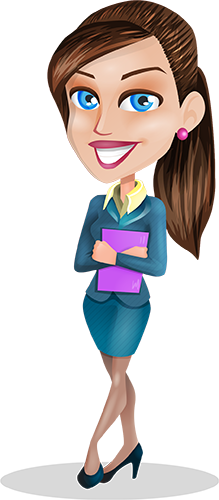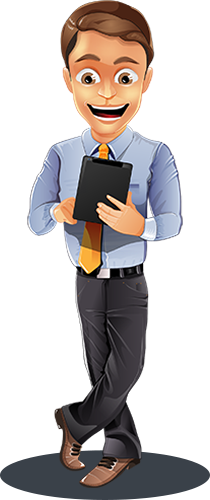 Enhance Communications
An internal company newsletter can help you clearly define and communicate your company's culture.
Improve Collaboration Between Teams
A company-wide communication platform helps leadership and management keep team members focused on directives, mission statements and future plans. This helps keep all of internal teams and departments aligned with common goals.
Attract Talent
Email newsletters can also help your company demonstrate your culture to potential new hires. Use your email communications as recruiting tools to help you garner interest from high-quality candidates.
Align External Resources
Email is also the perfect platform for broadcasting positive company PR to key business partners like VIP clients, program managers, subcontractors and referral sources like bankers, attorneys, and accountants.
Acknowledge Excellence
Use email newsletters to acknowledge accomplishments and broadcast appreciation of high-performing team members.
Build Loyalty
Positive communications highlight the best of your company and help build team relationships and company loyalty.
Build Community
Newsletters create a sense of community and corporate service both within and outside your company.
Feature Employee Benefits And Perks
EmployeeNewsletters can link seamlessly to your employee benefits site, online human resources portal, company website and other important sites, making it simple for your staff to find essential resources. We will also work with your firm to provide additional perks and benefits for your team at no added cost to your company.
Find out how our Partner Program can help your business extend its reach.
Learn More About Our Partner Program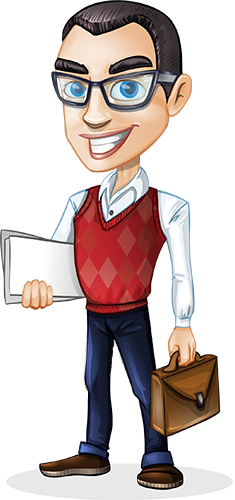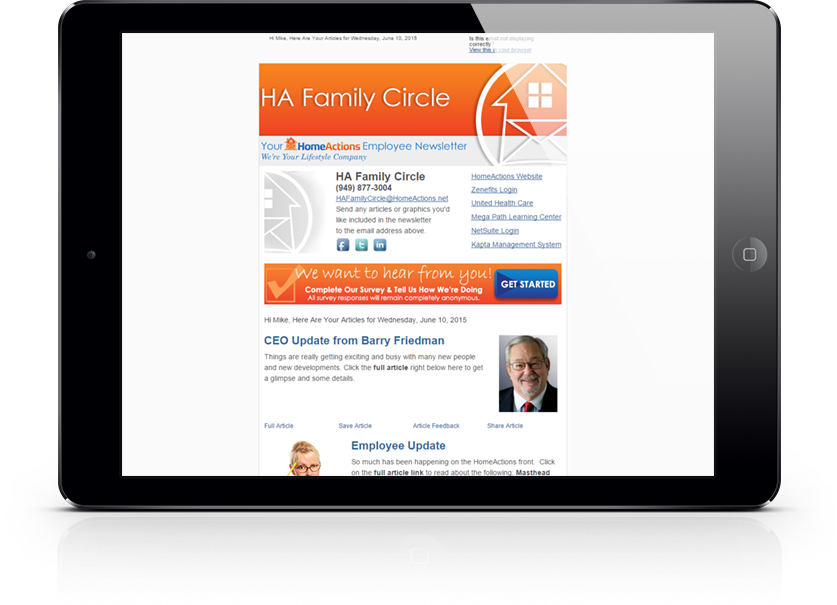 How We Help You
We know that everyone can't be tech geniuses, and we also understand that email newsletter creation can sometimes seem like an overwhelming task. That's why we do much of the heavy lifting for you:
We'll help you name your newsletter
We'll help you customize your template settings
We'll provide you with graphics for use in your email newsletter
We'll consult with you to determine what kind of content would be of greatest benefit to helping you achieve your internal communication goals
If you'd like to get an idea of what our newsletters look like and how they function, click the link below to review an example.
View A Live Sample
Connect To Resources
Your email newsletter can be set up to include links to your human resources site, employee benefits portal, company website, and company social media pages on Facebook, LinkedIn and Twitter. With one click, your employees will gain access to all your online resources and various communication channels.
Customization
Our platform allows you to customize your newsletter's color scheme, graphics, resources links and articles to align with your firm's brand message. You are able to add up to six custom articles in each monthly launch. You can also add your own banners featuring important announcements or updates.
Ready-To-Go Articles
Every month, we'll do part of the employee email newsletter creation work for you by automatically populating four to five professionally-written, timely articles in each launch. These articles, on topics such as personal tax, wealth management, real estate, local events, leadership and inspiration, are full of useful information for your team.
OnTarget Email Blasts
OnTarget is an email blast feature built right into our platform. When you have important announcements between your monthly newsletter launches, use OnTarget to get the word out. This easy feature is automatically formatted to include all your newsletter customization options and allows you to track responses to your message.
Automated Launch
Our system automatically launches your employee newsletter on a monthly basis. This feature helps you stick to a regular distribution schedule and consistently reach your staff.
Tracking & Metrics
If you send out a crucial announcement in one of your email newsletter launches, you'll be able to track your responses and see how many employees read the important update. Our robust reporting tools help you measure and track employee engagement.
Surveys & Polls
Your employee newsletters can be used to poll or survey your staff members. Include anonymous survey response links in your email newsletter to keep your finger on the pulse of your employee satisfaction rates.
Offers & Perks
As an added benefit, we'll include exclusive offers, discounts and perks from local professionals and vendors for employees to access in each newsletter launch. These offers are only available to our customers and their employees.
Our Support Options
If you're tight on staff (or just tight on time) we off three customer support models to help you meet your internal communication needs.
Standard Support
Our Raving Fans Customer Support team will create your account and train you on use of the EmployeeNewsletteron email platform. If you ever have questions, you'll be able to contact us via email or phone for unlimited assistance, seven days a week.
Premium Support
With Premium Support, you'll receive all the benefits listed above and more. You'll have access to proofreading and content review and extra graphics. Simply send us your article copy and graphics, and we will proofread your content, format your articles and upload them to our platform. We'll also add additional graphics if necessary, and we'll give you a full preview of your email newsletter for you to review prior to launch.
Premium PLUS Support
Our top-end support package offers everything you see here, plus professional ghost-writing of all your employee newsletter articles. We'll conduct interviews with you and/or your team members and produce professionally written articles, approximately 500 words in length. You'll be able to select how many articles you want to include in each monthly edition, and we'll give you a complete newsletter that you can review and approve before it launches to your employees.
Support Hours
The EmployeeNewsletter Customer Support team is available to assist you and answer questions from 9:00 AM to 5:00 PM US Eastern Monday through Friday via email at support@industrynewsletters.com or via phone at (240) 252-2077. We also have a simple, intuitive help feature within our platform to give you a hand anytime you need it.
Pricing
Our goal is to keep our newsletters sophisticated, yet affordable. Contact us, and we'll discuss our pricing options with you.
Contact Us For Pricing Options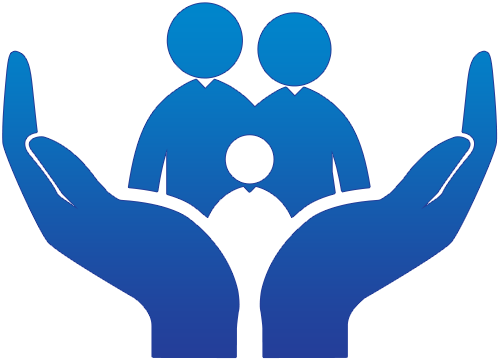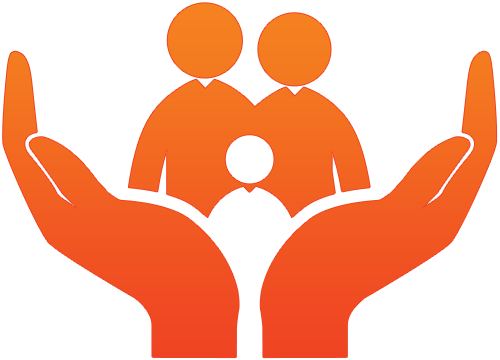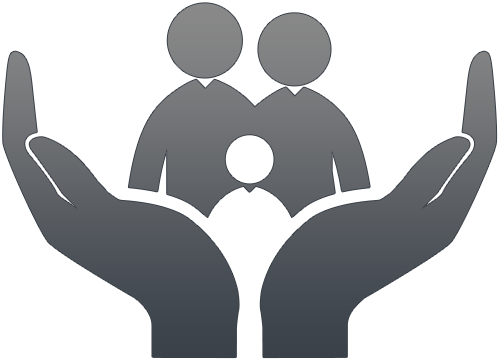 Would You Like To Learn More? Schedule A Demo!
We'll tell you more about how the CompanyEmployeeNewsletter email platform works and what we can do to help your company's human resources team, office administrator or administrative professionals improve your internal communications. Schedule a short demo with us, and we'll walk you through all the ways you can use our cost-effective system to inspire your employees and create a more productive staff.
Contact Us To Schedule A Demo